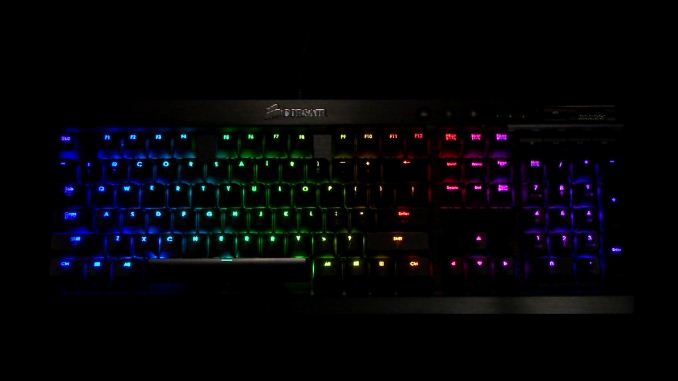 Corsair had plenty to show at their suite, but I'll be honest: the RGB LED backlit Cherry MX switch mechanical keyboard was by far the coolest looking thing I saw. Press release photos simply don't do the thing justice, as it looks spectacular in person. Ian already covered most of what Corsair announced, but I had the chance to go hands on with the products.
The idea is pretty simple: build a mechanical keyboard with Cherry MX switches, but instead of single color LEDs, put an RGB LED array on each key. What's more, each key can be controlled individually, so you can literally program anything you want for the keyboard backlighting. The backlighting provides a full range of 16+ million colors on each key, so in that sense it's just like a 24-bit display, but the complexity requires an additional microchip controller.
Corsair had a demo running that cycled through all sorts of color options, and there's likely an API in development to let modders/hackers get the most out of their new toy/keyboard. The as yet unnamed keyboard should be available with your choice of Cherry MX Blue, Brown, or Red switches. Pricing isn't yet determined, but I suspect it will be pretty steep, given the n-key rollover and the need for four extra wires to each switch just for the RGB LEDs! My guess would put the price between $200 and $250, so we'll see if that ends up being accurate in the next few months when the keyboard actually launches (though there's no firm release date yet); the promo video can also be viewed on YouTube.
Of course there were other keyboards and mice on display, some old and some new. For those that prefer the feel – and cost – of membrane keyboards, Corsair also launched the Raptor K40 keyboard that also features RGB backlighting with 16.8 million color possibilities, but it doesn't have per-key backlighting. It does have 18 programmable macro keys with three keybanks (54 total macros), n-key rollover, and dedicated multimedia keys, and it will be priced far more affordably at $80 MSRP. The other keyboards (pictured in the gallery) have already launched, so I won't spend time on those.
Moving over to the mouse side of things, I think the only new offering is the Raptor M45 gaming mouse. It offers a suite of high-end features, including adjustable weight, a 5000 DPI Pixart PMW3310 optical sensor, large glide pads, a textured surface, and seven programmable buttons with macro support. Mice are such highly subjective things that I hesitate to say much, other than they felt good in hand. I like lighter mice personally, so I haven't really figured out the need for added weight, but to each his own. There are also DPI switches to quickly adjust your DPI on the fly. Pricing is $60 MSRP with availability expected later this month.