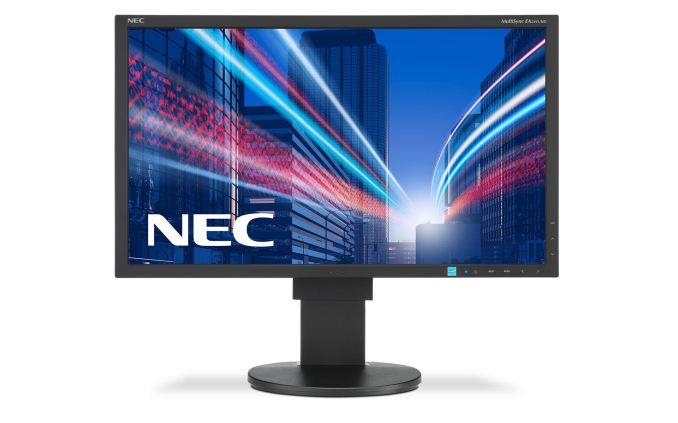 Meet the NEC EA244UHD
The NEC EA244UHD is the first UltraHD (UHD) monitor from NEC. While it's not from their professional line, it has many of the features we've come to expect in their monitors: uniformity compensation, a wider color gamut but also sRGB and AdobeRGB support, and many user configurable settings. It also has a few things NEC has never done before including SpectraView calibration support on an EA-series model and full USB 3.0.
The EA244UHD is also loaded when it comes to connectivity. There are dual DisplayPort 1.2 inputs, HDMI, HDMI with MHL, and dual DVI (but these are only single link). I wish there was a Mini DisplayPort input like Dell has on their UHD displays, but there are still enough inputs here for anyone. With so many inputs, the NEC can display a single input at once, two side-by-side (with auto-expansion), three at once, or even four where each gets a FullHD 1920x1080 area. The Auto-Expansion mode allows you to customize the width of one half of the display and the other half automatically adjusts. There is also a USB 3.0 hub with three USB 3.0 ports, and as a sign that someone is listening to comments, the headphone jack is on the side of the display instead of the bottom or rear, where it is easy to access. Hooray for small victories!
One difference with the NEC EA244UHD compared to other UHD monitors so far is that it defaults to MST being enabled for DisplayPort 1.2. With other UHD monitors I have had issues where MST would stop working, or the monitor would not come out of sleep. The NEC is designed to drop out of MST mode if a display card doesn't support it, but I can't test this since all my video cards do support MST. I'm not certain if MST always working correctly on the NEC is because it is enabled by default, or because video drivers have been updated since the last display to fix the problem. Whatever the reason, the NEC EA244UHD works at 60Hz without a problem.
The backlight of the EA244UHD is a G-B LED one as we have seen on other displays. This allows for a larger color gamut than traditional white LEDs but the lower power use and heat output of LEDs compared to CCFL backlights. Built into the EA244UHD are preset modes for the sRGB gamut, AdobeRGB gamut, DICOM (medical imaging), and the Native Gamut. There is also a Programmable mode, which relies on the SpectraView II software to calibrate the display.
Also in the menu system are a few more custom NEC features. The Human Sensor detects when you are at your desk and keeps the monitor on. If you're away for a defined period of time, it will turn off. Yes, you can use the power options to do this, but there might be reasons you don't want to do that and you can accomplish it here. The Uniformity option increases panel uniformity at the expense of maximum brightness. I always test with this on as the maximum brightness is still bright enough for almost anyone and the uniformity really does improve.
If you want to hook up more than one NEC monitor, you can chain up to six of them together. Doing so will let you adjust the brightness, mode, and other settings from a single unit. (This is just in case you need six UltraHD displays, because that sounds nice.) NEC also ships the EA244UHD fully assembled, including a stand with height, tilt, and pivot adjustments. NEC is using a new air-packing method for this display, which is a nice change from the styrofoam most people use. It weighs less, is easy to reuse and recycle, and makes no mess. Those that test 15-18 monitors a year like myself really like to see this, and I hope more vendors follow this method of packaging.
NEC EA244UHD
Video Inputs
2x DisplayPort
1x HDMI/MHL
1x HDMI 1.4a
2x Single-Link DVI
Panel Type
IPS
Pixel Pitch
0.14mm
Colors
1.07 Billion
Brightness
350 cd/m2
Contrast Ratio
1000:01:00
Response Time
6ms GtG
Viewable Size
24"
Resolution
3840x2160
Viewing Angle (H/V)
178 / 178
Backlight
G-B LED
Power Consumption (operation)
79W
Power Consumption (standby)
0.3W
Screen Treatment
Anti-Glare
Height-Adjustable
Yes, 5.1"
Tilt
Yes
Pivot
Yes
Swivel
No
VESA Wall Mounting
Yes, 100mm VESA
Dimensions w/ Base (WxHxD)
22.0" x 15.2" x 8.6"
Weight
19.2 lbs.
Additional Features
3.5mm stereo out, ControlSync, 3x USB 3.0
Limited Warranty
3 year
Accessories
DisplayPort Cable, ControlSync Cable, USB 3.0 Cable
Price
$1,366 online