With Sony's launch event we had the occasion to see their first Android Wear device. Sony presents the SmartWatch 3 and the SmartBand Talk wearable device watches.
The SmartWatch 3 sports a 1.6" 320x320 TFT LCD run by a 1.2 GHz quad-core ARM Cortex A7 SoC and powered by a 420mAh battery. We find 512MB of RAM and 4GB of system NAND.
The device is IP68 certified even though it is charged by a standard microUSB port. There's not much to say about the specifications of the watch as Sony has kept it pretty simple. Since Android Wear is not customizeable by OEMs, there is no differentiation between it and previous square Wear smartwatches.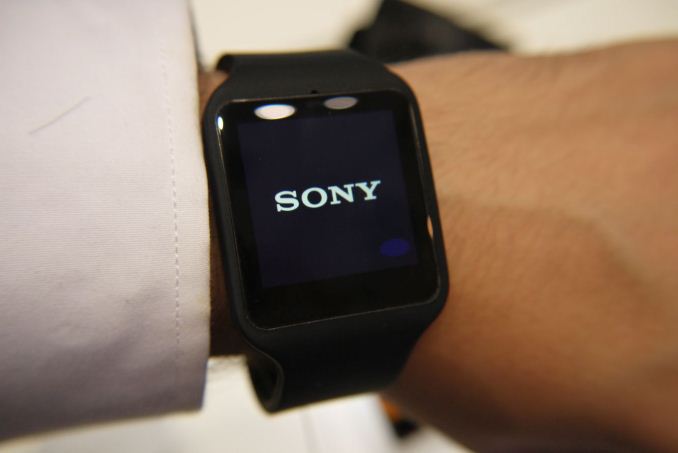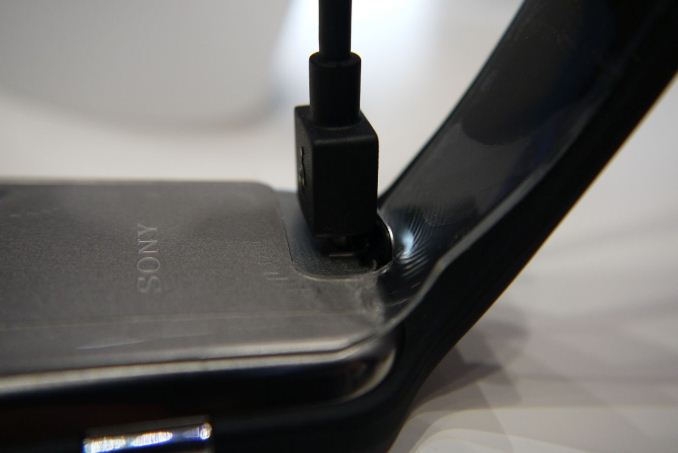 In terms of design, there's only one way I would describe it: rubbery. With the rubber armband extending over the sides of the watch, we're talking a lot of rubber. It feels like one of those child-watches that I remember keenly, only that it's not coloured bright orange, which is kind of ironic because Sony will offer some gaudy colour options such as lime later in the wear. We only had black and white models available at IFA and the black one was already kind of odd looking.
I also found the device too be a bit too big for my taste, but then again I was never fan of big watches. The microUSB port is protected by a little cover which you need to keep lifted up while trying to plug in the cable. I found this very annoying as I couldn't make the cover stay on the side while plugging the cable in - it's so small and fiddly that it took me a good 20 seconds to connect it.
The other wearable is the SmartBand Talk. Sony markets it as a "lifelogger" device which tracks your movement via gyroscope and accelerometer and saves the data. The device also allows to be used pretty much as a bluetooth headset, just that it's not a headset. You can talk to it and it has a little speaker. It has a 1.4" curved narrow e-paper display that allows it to extremely power efficient. The band sports a tiny 70mAh battery.
Frankly, I'll admit that I didn't spend too much time with the SmartBand because I simply did not see any use for it. It kinda perplexes me and seems like some little gimmick gadget that you could just skip and get the real deal in the form of a full-fledges smart-watch.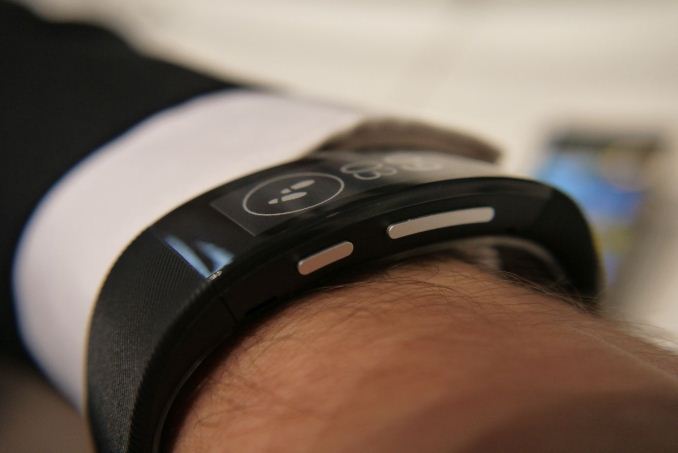 All in all, Sony's new wearables don't seem to be any new groundbreaking inovation. It adds to the wearable ecosystem and I'm surely happy for that - but when it comes to actually buying one, I think people will find better options in devices from the competition.