Writing one guide for all of the Z97 motherboard range seems a little odd. It is possible to consider each market segment and price range to come up with a motherboard from the 112 LGA 1150 available on Newegg for each segment, but then we would end up offering a guide covering a couple of dozen models. Instead, given that we have tested over 13+ motherboards (and have another one or two to test internally), I have picked some of my favorites.
It is worth noting that for all Haswell CPUs, both Z87 and Z97 offer overclocking opportunities on either the refresh or regular overclocking parts. Z87 is also cheaper than Z97 for the most part, but the main loss with Z87 is the latest updates with Intel RST for PCIe devices, enabling M.2 and SATA Express without additional controllers. For this overview we have only included Z97 models as Z87 was end-of-life some time ago, although there are bargains to be had from retailers who still have stock.
ASUS TUF Z97 Mark S ($270, Our Review)
The Mark S from ASUS is a limited edition white version of their Z97 TUF range, which we were lucky enough to review model number 0001 from the production line. One of the major drivers in motherboard sales in the past year or two has been the style, and the Mark S took TUF in a direction requested by consumers on their forums. We saw the motherboard in its design phase back at Computex in June, and the arctic camouflage look is just right for a similarly themed build.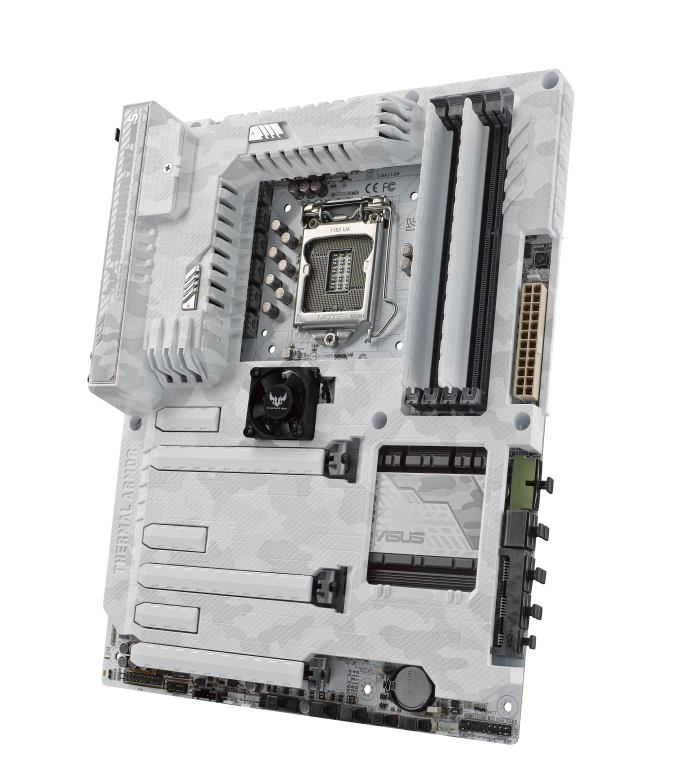 Under the hood is the typical TUF mentality. This means a shroud with directed baffles for airflow movement that also doubles as a dust and impact protector, port and slot protectors, a dual GPU oriented x8/x8 layout and software oriented around Thermal Radar for monitoring temperatures. Other features onboard include eight SATA 6 Gbps ports, a TPM, upgraded Realtek ALC1150 audio, dual NIC (Intel + Realtek) as well as a five-year warranty.
Users might argue that for the price, the active functionality might not be as much as expected, but the extra warranty combined with limited edition and extra steps to create the style is not as free as we would like. But on the positive side, performance of the Mark S was also good, including our best ever results with DPC Latency, strong audio and sub-11 second POST times.
MSI Z97 MPower Max AC ($250, Our Review)
This motherboard came onto the test bed as part of the initial run of Z97 reviews after launch day. MSI had not actively pre-promoted their brand to the media at the time, but during testing it was clear they had been taking advice on board from the previous generation reviews. This meant an updated BIOS that was a lot easier to use as well as an interactive fan control graph. The software also introduced a new version of Live Update 6, which is still our favorite updating software package on motherboards.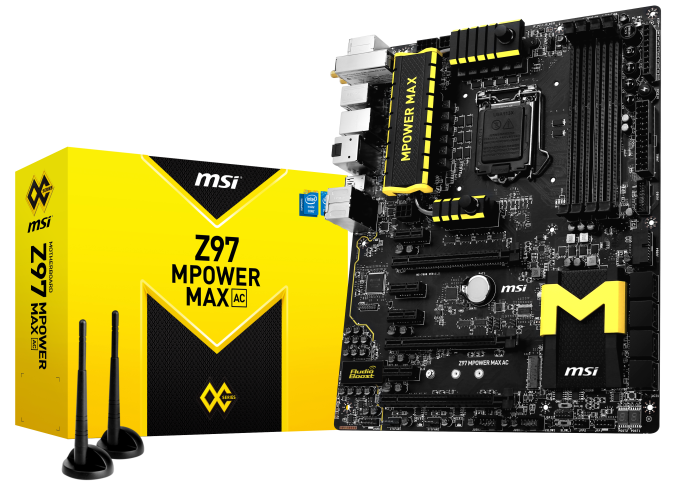 The motherboard itself targets the $200-$250 overclocking market by offering a combined air/water power delivery cooling system along with overclocking functions such as voltage read points, dynamic adjustment buttons, and for the sub-zero crowd a flat area around the socket for easier insulation. Another plus point was perhaps the lack of SATA Express when everyone else was scrambling for it, with MSI deciding instead to go with eight SATA ports and M.2 x2 storage connectivity. USB 3.0 came in with twelve ports, more than almost any other motherboard on the market. We also get 802.11ac 2T2R dual band WiFi, an Intel I218-V NIC and an upgraded ALC1150 audio codec solution.
Performance focused on DPC Latency (53 microseconds) and a super stripped POST time south of nine seconds. Other performance metrics were within the ball park of other products, and when compared to the MPower, offers several features more suited to a water cooling overclocker that can use WiFi.
ASRock Z97E-ITX/AC ($135, Our Review)
In our three-way test of ~$140 mini-ITX motherboards, there was no absolute clear winner. Each motherboard had its own failings and areas where it surpassed the other two. The reason why I have selected the ASRock Z97E-ITX/AC over the other two for this buyers guide comes down to its failings being easier to overlook in a sense. It still retains a commanding place in terms of feature set (Intel NIC, upgraded audio, six SATA ports and SATAe/M.2 storage) as well as the BIOS/software combination.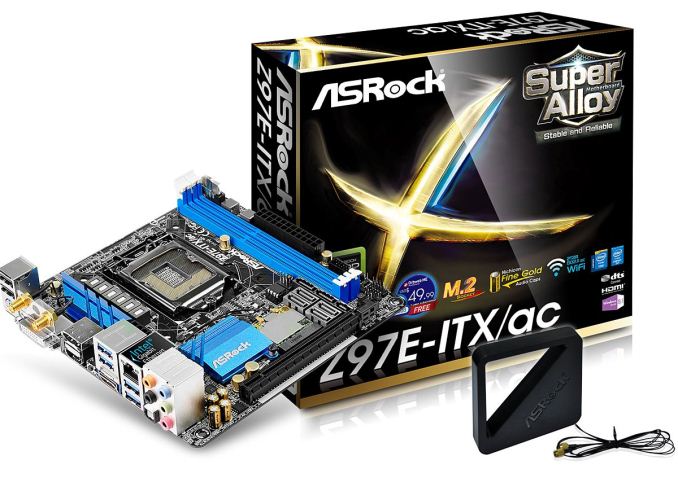 The main issue with the motherboard was the lack of MultiCore Turbo by default, meaning the stock performance was a little behind. If any user decides to use an overclock, this issue disappears of course.
A Word on Overclocking
The reason why a good number of enthusiasts overclock is simple. For me, it was because as a student I could only afford basic hardware, and overclocking gave me extra performance for no extra cost. This was most important in gaming where the difference of having two cores at 3 GHz was better than at 2.1 GHz, or even on CPUs like the i7 920 that gave a nice percentage boost. It turned out to be fun, and then I got competitive and started overclocking for competitions. While my main impetus for overclocking was gaming, there are other users that focus on overclocking for throughput, especially prosumers that rely on performance or responsiveness.
When Intel produces its overclocking CPUs for the mainstream market, in recent years Intel has been limiting OC to a single model in the i5 (quad core, no hyperthreading) and i7 (quad core with hyperthreading) ranges. Haswell changes this slightly with the release of Devil's Canyon in June-July 2014. These CPUs offered a larger temperature window for overclocking due to improved thermal interface material, giving more potential headroom for the more extreme 24/7 overclockers.
Motherboard manufacturers jumped on the overclocking wagon for several reasons. It gave them the opportunity to produce a focused product aimed at getting world records and provided a platform for advertising. As a bonus to this, it gave them a better platform for their gamers and as a result several manufacturers built complete ecosystems of products around the combined overclocking and gaming concept, with ASUS ROG being the longest standing range on offer. Some manufacturers for the Haswell Refresh also released motherboards focused at the dual core Pentium Anniversary Edition (the $70 Pentium G3258) for those with limited budgets. Overclocking is not a dark art, although some of the more esoteric features for extreme overclockers require an amount of engineering not seen on a $100 motherboard.
MSI Z97 Guard Pro ($110, Our Review)
In the market, only three/four motherboards focused for Pentium-AE overclocking exist (MSI Z97 Guard Pro, ASRock Z97[M] Anniversary and ECS Z97-OK) although there are plenty up and down the stack that will offer overclock options. We mention the MSI Z97 Guard Pro here for two reasons – it came out of our review OK when overclocked and the Auto OC button on board gave the CPU a stable 4.3 GHz at a not-too unreasonable voltage. To add to the occasion, the BIOS also offers an Easy XMP button so users do not have to go through BIOS menus to enable it.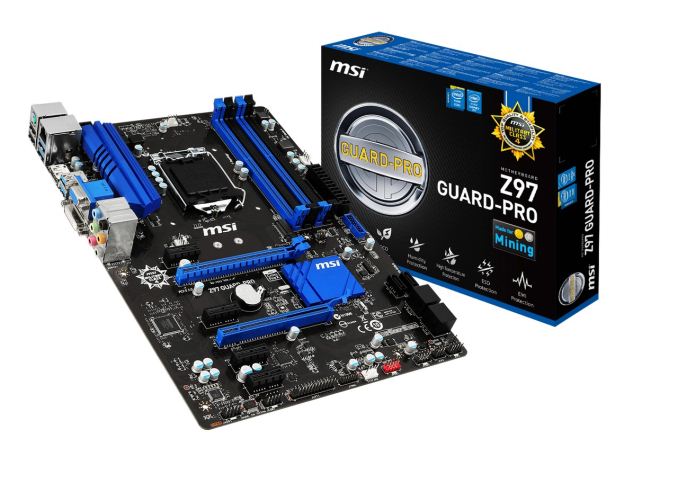 General system benchmarks afforded mid-table results (DPC Latency of 88, a 12-13 second POST time), but due to the spartan nature of a board this cheap the power consumption numbers were lower than others we had tested at the time. The MSI Z97-Guard Pro provided a nice base for a low cost Intel PC where Pentium G3258 overclocking combined with single GPU gaming, or non-PCIe bandwidth based compute, are important. For gamers on a budget, press the OC Genie button and pair it up with a USB DAC or PCIe sound card for a good all-around experience.
ASUS Maximus VII Impact ($240, Our Review)
We just finished reviewing the Maximus VII Impact, and it builds upon the VI Impact in terms of experience and featureset. We get daughter boards almost everywhere with one for power delivery, one for control and another for audio, with the Z97 Impact including an extra one for fan headers and the PCIe Combo card updated for proper M.2 x4 support. WiFi comes via the 802.11ac 2T2R dual band solution, and audio via the SupremeFX daughterboard holding an upgraded Realtek ALC1150 package.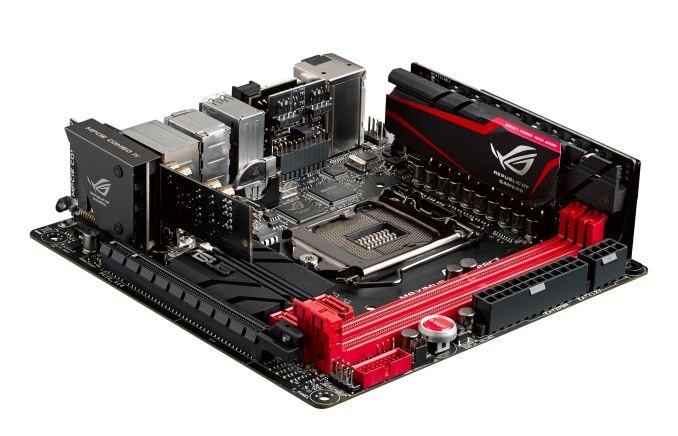 Every time we test a high end motherboard, it can be somewhat amazing how little space is actually available for higher end components, hence the reason for ASUS to move in a third dimension with a number of these features. Also with the Impact is the ROG software stack and BIOS, featuring 5-Way Optimization with Z97 as well as GameFirst 3 for network prioritization and KeyBot macro software.
Benchmarks show the package matches the DPC Latency of the Mark S for joint-top spot. Its MultiCore Turbo implementation is also rather aggressive, giving almost top marks in the benchmarks we have run so far. At $240 it sits at the top of the mini-ITX stack but remains the go-to board for ROG SFF users.