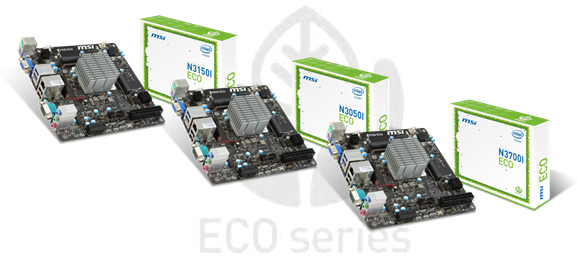 The launch of Braswell, to replace Bay Trail-D, is going to slowly emerge over the next few months. We reported on the initial launch of SKUs as leaked, but it would seem that MSI is taking point by formally announcing three motherboards in the ECO line. We reviewed the B85M-ECO at the end of last year and came away relatively impressed, stating that this is a market that MSI could seize. At the time I did not know what the next product would be, but Braswell is MSI's answer.
The three motherboards are all in the mini-ITX form factor, differing only in the SoC under the hood. At the high end is the MSI N3700I ECO with a quad-core Pentium N3700 at 2.40 GHz, followed by the Celeron N3150 (quad-core, 2.08 GHz) and the Celeron N3050I (dual core, 2.16 GHz). All the boards are reported to support H.265 (HEVC) hardware decoding, and support for 4K via HDMI 1.4b, via the Gen 8 graphics on the Cherry Trail based 14nm SoC.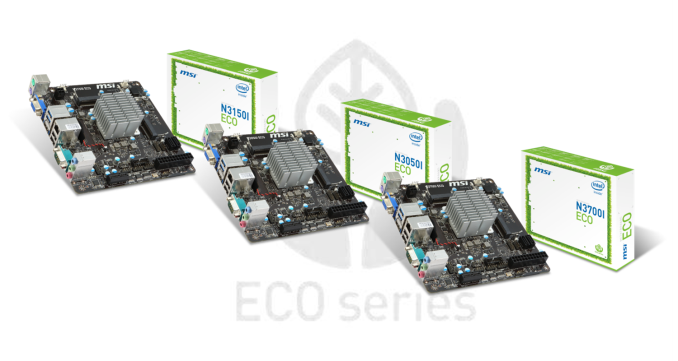 All the boards have two DDR3L-1600 SO-DIMM slots for support up to 8GB of DRAM along with two SATA 6 Gbps ports, a PCIe 2.0 x1 slot, gigabit Ethernet and USB 3.0. The cooler is passive, which for a 6W SoC sounds about right. Judging by the images, we're looking at a 2.1 audio codec on board (probably the ALC662 normally found in laptops) as well as a COM port and VGA/HDMI ports.
Unfortunately all my MSI contacts seem to be out of office right now, so getting more detailed images for analysis, release dates and pricing is on hold. I will update with more information as we get it.
Source: MSI