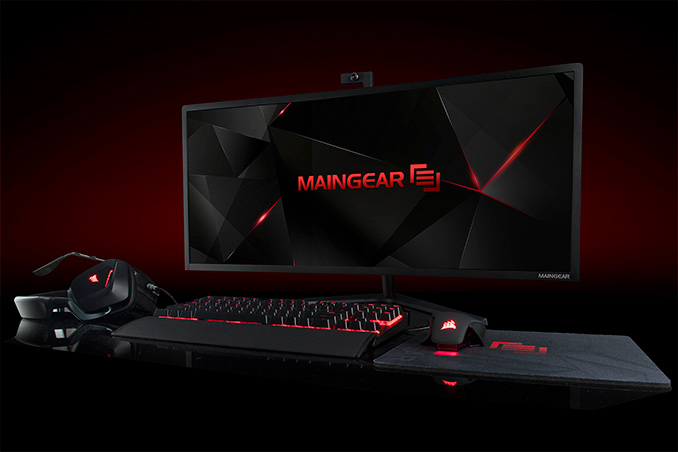 The concept of the all-in-one desktop personal computer was created to save space and simplify design of PCs. While there have been a number of traditional AIO desktops available over the years, leading PC makers only began to address performance-demanding market segments with specially-designed models several years ago. At the Consumer Electronics Show on Monday, boutique PC maker Maingear introduced the world's first AIO desktop featuring top-of-the-range gaming or even server components.
The Maingear Alpha 34 is a giant all-in-one desktop with 34" curved display with 3440×1440 resolution. Unlike the vast majority of semi-custom AIO PCs, the Alpha 34 is built around standard mini-ITX motherboards — in this case the ASUS ROG Maximus VIII Impact or the ASRock X99E-ITX for high-end configurations (Intel H110-based mainboard is available as an option for lower-cost configurations). Due to the flexibility in motherboard selection, the system can use either socket 1151 or socket 2011-3 CPUs depending on the board, including Intel's Core i3/i5/i7, or Intel Xeon E5 v3 processors with up to 18 cores and up to 45MB of cache. The AIO desktop uses the Maingear's own closed-loop liquid cooler in order to ensure stability of desktop and server CPUs.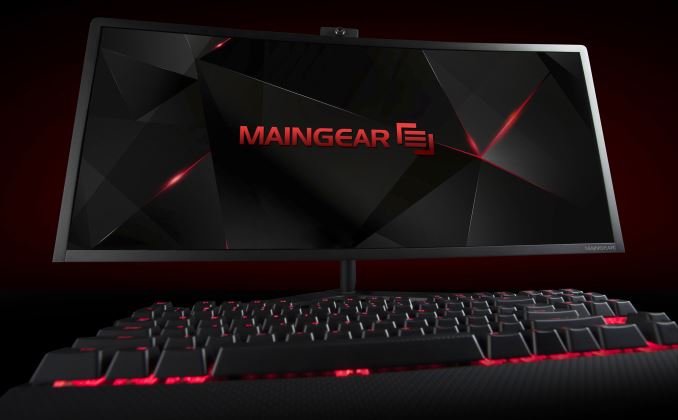 The Alpha 34 can be equipped with up to 32GB of unbuffered DDR4 memory, one M.2 NVMe solid-state drive and up to two 2.5" storage devices. The AIO can also accommodate full-sized desktop graphics cards, including the AMD Radeon R9 Nano, the NVIDIA GeForce GTX Titan X, or professional cards. The system naturally supports all the connectivity options provided by the aforementioned motherboards, including Gigabit Ethernet, 802.11 a/b/g/n/ac Wi-Fi, 5.1-channel audio, USB 3.0, USB 3.1 connectors and so on.
As is usually the case for botique system builders, Maingear is offering a suite of customization options to let the AIO hit different price ranges and performance levels. That said, the Alpha 34 is always equipped with a 450W power supply unit, and therefore not all setups will be feasible. Multi-core Intel Xeon processors as well as top-of-the-range graphics cards consume a lot of power and 450W may not be enough to feed all the possible configurations.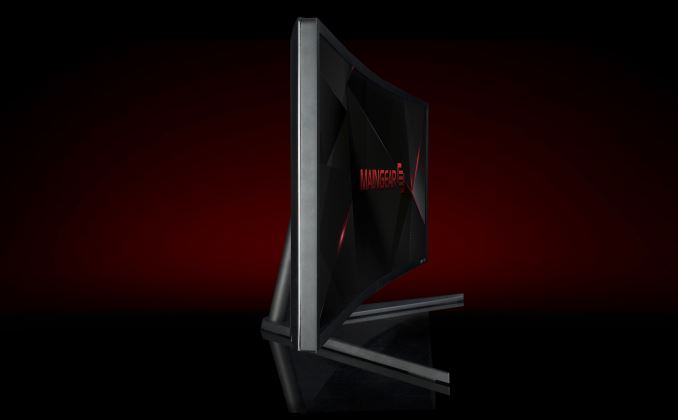 Performance of the Alpha 34 featuring the latest Core i7 processors should be on par with that of high-end tower desktops. Upgradeability of all-in-one systems is not as flexible as that of tower machines, which is one of the reasons why AIOs are not for everyone. To make the Intel Z170-based systems a little more future-proof, the PC maker offers factory overclocking for Skylake-S CPUs inside the Alpha 34.
All Maingear systems — including the Alpha 34 — can be custom painted and equipped with various peripherals like external optical drives, keyboards, mice, headsets and so on.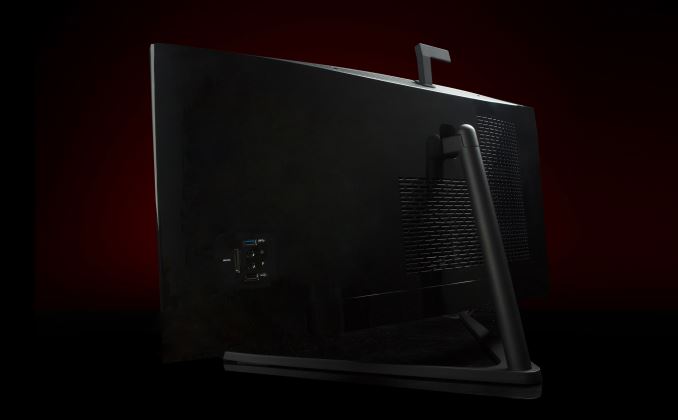 Pricing of the Alpha 34 starts at $1,999. A fully-fledged gaming setup with premium components, but without custom-finish and peripherals, will cost $6,150.99. A workstation machine inside the Alpha 34 chassis will be priced at around $15,000. Finally, Maingear will start to ship its Alpha 34 systems starting February 1, 2016.