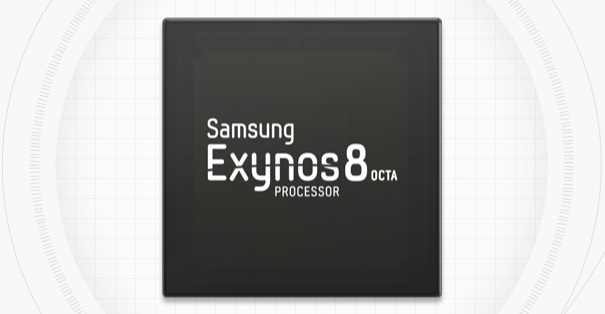 It's been an interesting day here in Barcelona as I've had the pleasure to get a hands-on with both LG's new flagship, the G5, as well as Samsung's new Galaxy S7. While Joshua's
hands-on article
was based on the Snapdragon 820 variant of the Galaxy S7 which we'll be seeing in US and likely Chinese markets, the samples here in Barcelona were European units based on Samung LSI's own Exynos 8890 processor. Without wasting too much time I quickly took a deeper look into one of the devices on display at the event to be able to find out some of the missing information that we've been lacking on the Exynos 8890.
High-End SoCs Specifications
SoC
Snapdragon 820
Exynos 8890
Exynos 7420
CPU
2x Kryo@1.593GHz

2x Kryo@2.150GHz
4x A53@1.586GHz

4x Exynos M1 @
2.60GHz (1-2 core load)
2.29GHz (3-4 core load)
4x A53@1.50GHz

4x A57@2.1GHz
Memory
Controller
2x 32-bit
LPDDR4 @ 1803MHz

28.8GB/s b/w
2x 32-bit
LPDDR4 @ 1794MHz

28.7GB/s b/w

2x 32-bit




LPDDR4 @ 1555MHz





24.8GB/s b/w

GPU
Adreno 530
@ 624MHz
Mali T880MP12
@ 650MHz
Mali T770MP8
@ 770MHz
Mfc.
Process
Samsung
14nm LPP

Samsung




14nm LPP

Samsung




14nm LPE
The Exynos 8890 employs Samsung's own designed Exynos M1 cores. The micro-architecture at a high level resembles ARM's big cores, but Samsung seems to have made quite a few changes and improvements when compared to ARM's designs. While by now I do have a quite good idea of what the Exynos M1 looks like, we'll be covering the topic more in-depth in a future article once we'll be able to gain better insight from our own unit for proper benchmarking and power measurements.
On the CPU side we find an 8-core SoC composed of 4x Cortex A53 cores running at up to 1.586GHz coupled with 4x Exynos M1 cores in a big.LITTLE configuration. The most surprising revelation was the fact that the M1 cores reach an extremely high clock of up to 2.6GHz. This represents quite a significant boost over some past rumors which had put expectations 2.3-2.4GHz maximum frequency range. The catch here is that the Galaxy S7's power management doesn't allow all four cores to run at this high frequency but rather only enables the maximum clock when there's at most 2 cores loaded. If there are 3 or more cores under high load, the CPU frequency doesn't surpass 2288MHz.
On the GPU side we knew that we'd encounter a new ARM Mali T880MP12 - the currently largest Mali implementation available among existing SoCs. Back in November I theorized that Samsung would use the larger core implementation to lower the clocks of the GPU block and thus achieve better power efficiency. Indeed that's what seems to have happened as the Exynos 8890's GPU peaks at 650MHz versus the 770MHz frequency for the Exynos 7420. Hopefully this means that the new SoC will be able to maintain its peak performance for longer periods of time.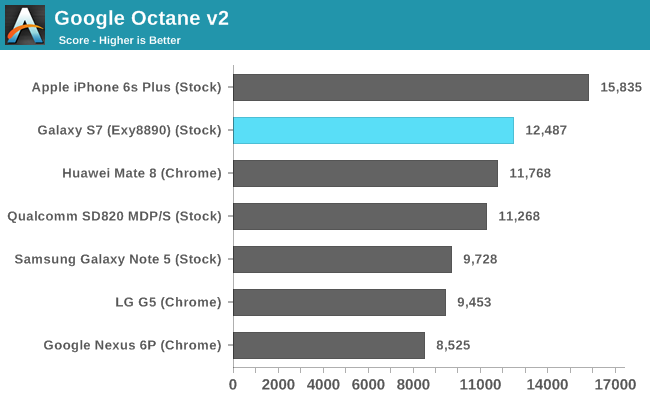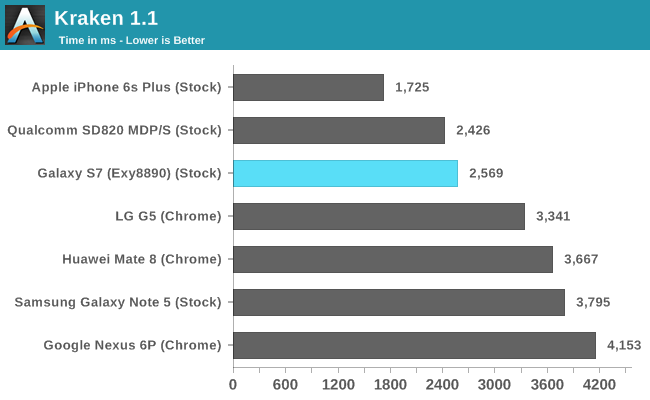 While I didn't have the time to run too many benchmarks, I did manage to run a few of our basic browser tests as well as GFXBench. We haven't had the opportunity to benchmark the Snapdragon 820 Galaxy S7 yet, therefore I included the score numbers of the MDP/S platform to represent a best-case scenario for the Snapdragon 820 until we can get apples-to-apples scores based on Samsung's browser. This still mostly due to the fact that Chrome is seemingly not yet optimized to take advantage of Kryo's new architecture, and as a result scores some rather mediocre numbers, as seen in some preliminary LG G5 numbers included in the graphs above.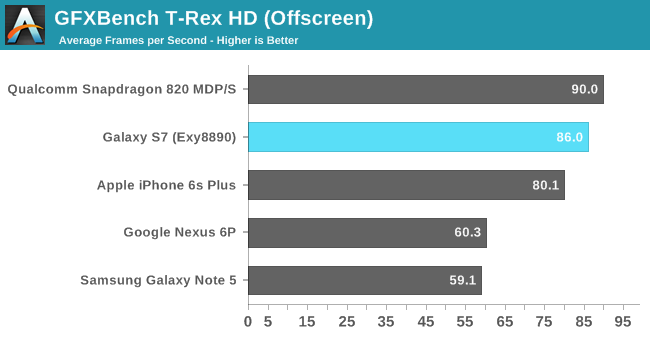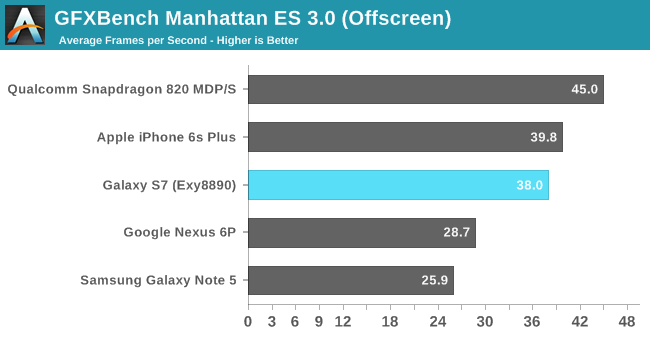 Some quick GPU benchmarks also put the Exynos 8890 slightly behind the Snapdragon 820 in the MDP/S. We will still have to see if actual Snapdragon 820 devices are able to deliver the same performance as the MDP/S platform as there might be some thermal limitations coming into play. Again, we can't comment too much on the scores before we get to know each device's long-term performance and if the attained numbers are sustainable for long periods of time.
One observation I made today which was particularly concerning, was that both with the Snapdragon 820 LG G5 as well as the Exynos 8890 Galaxy S7 got considerably warm after running some heavy workloads. The fact that the Galaxy S7 touts having a heat-pipe thermal dissipation system is a quite worrying characteristic of the phone and should in no way be seen as a positive feature as it points to high power draw figures on the part of the SoC.
The first impression is that the performance difference between the Snapdragon 820 and the Exynos 8890 doesn't seem to be very large, therefore it will be the SoC's power draws and power efficiencies which will determine if, and which one of both will represent a superior design. Hopefully in the coming weeks and months we'll be able to get a better understanding of this new generation of SoCs so that we can paint a definitive picture of the current status of the mobile SoC space.