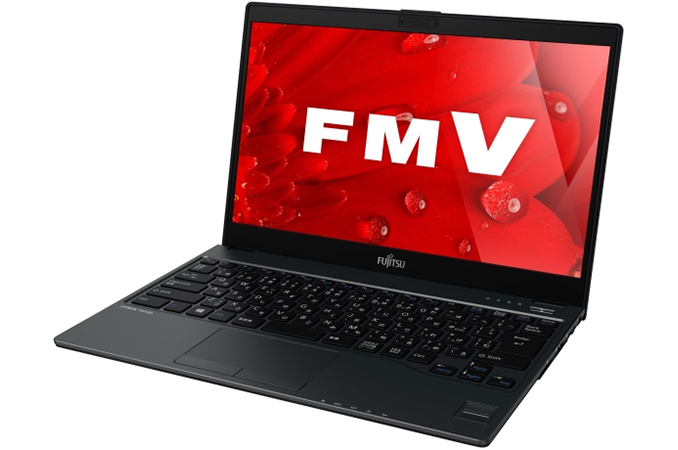 Fujitsu has introduced its new Lifebook U937/P notebook that weighs under 800 grams (1.76 lbs), but offers a fully-fledged Intel Core i5 Kaby Lake-U processor as well as a 13.3" display with FHD resolution. The notebook is designed for business users and thus comes with features like a fingerprint reader.
Fujitsu did not announce many details about its Lifebook U937/P, but only said that the laptop is based on the 7th generation Intel Core processor (which, given the timing of the announcement, implies on the Kaby Lake-U), weighs less than 799 grams (1.76 lbs) in its default configuration, is 15.5 mm thick and comes in black or red.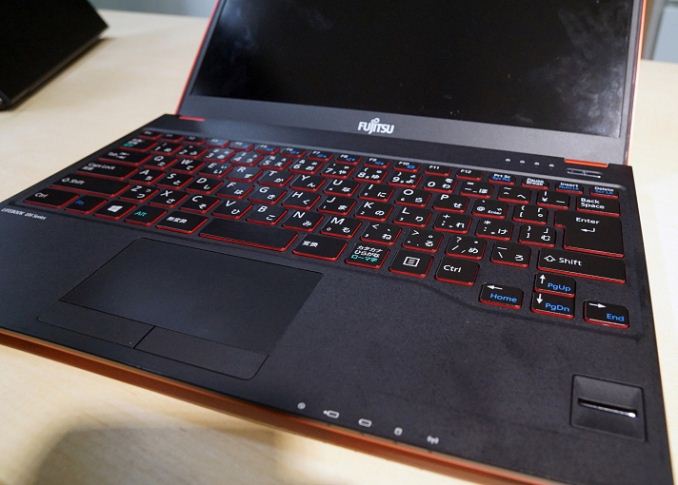 Despite the introduction, no real details other than those above were disclosed. Despite this, a lower weight notebook for the Japan market was also disclosed - the Lifebook UH75/B1. This is a lower-cost laptop, that is also 15.5 mm thick but weighs only 777 grams (1.71 lbs).
Specifications of the Fujitsu Lifebook UH75/B1 will hardly exactly match specs of the Lifebook U937/P since the systems are priced differently, but they give an idea what to expect. The UH71/B1 notebook is based on the Intel Core i5-7200U (2C/4T, 2.5 GHz, HD Graphics 620) SoC and is equipped with 4 GB of DDR4-2133 memory (Ian: is that single channel?) as well as a 128 GB SSD. When it comes to input/output capabilities, the Lifebook UH75/B1 offers a 802.11ac Wi-Fi + BT 4.1 wireless module, three USB 3.0 ports (two Type-A, one Type-C), an SD card reader, an HDMI output, a TRRS audio connector, a webcam and a fingerprint reader. As for the battery, the notebook comes with a 25 Wh accumulator that can power it for eight hours.
Fujitsu Lifebook UH General Specifications
UH75/B1
(Japan Only)
U937/P
(Regions unconfirmed)
Display
13.3" non-glossy panel with 1920×1080 resolution
SoC
Intel Core i5-7200U
2C/4T,
2.5-3.1 GHz,
15W,
Intel HD 620
Kaby Lake-U
RAM
4 GB DDR4-2133
Probably 8GB+?
Storage
128 GB SSD
Probably 256GB+ ?
Camera
720p webcam
Maybe FHD?
Wireless
802.11ac Wi-Fi
Bluetooth 4.1
I/O ports
2 × USB 3.0 Type-A
1 × USB 3.0 Type-C
1 × HDMI
Audio
Integrated speakers
1 × TRRS 3.5-mm jack for headset
Dimensions
309 × 212 × 15.5 mm
Weight
777 grams
799 grams
Battery
25 Wh
25 Wh?
OS
Windows 10 Home
Win10 Home/Pro?
Fingerprint
Yes
Finish
Red
Black
Availability
February 2017
¥190,000 (~$1660)
February 2017
¥284,900 (~$2486)
The Lifebook U937/P and the Lifebook UH75/B1 are among the lightest 13.3" laptops ever produced and will be among the lightest on the market. At the same time, it is noteworthy that the UH75/B1 only has 4 GB of memory and 128 GB of storage space, which is not a lot by today's standards and may be considered not enough by many users on the go. By contrast, Samsung's recently updated Notebook 9 weighs 816 grams, but comes with 8-16 GB of DDR4 and a 256 GB SSD. Moreover, Lenovo's LaVie Z (introduced in 2015) not only had more memory and a larger SSD, but also a higher screen resolution. On the other hand, ultrathin and ultralight laptops are usually full of compromises because various people have different requirements and fulfilling requests of one group means introducing limitations for another. The one common feature through these is that the sub-1.8 lb laptop market is dominated mostly by entrants focusing on the Japanese market.

Fujitsu plans to start selling the Lifebook UH75/B1 in Japan in mid-February for ¥190,000 (~$1660). ETA of the Lifebook U937/P is February, but we do not know whether it is early or late in the month. Meanwhile, the price of the product will be ¥284,900 (~$2486), which is considerably higher than the price of the UH75/B1 and implies on better specifications (e.g., a better SoC, more memory, a higher capacity SSD, etc.).
Related Reading: