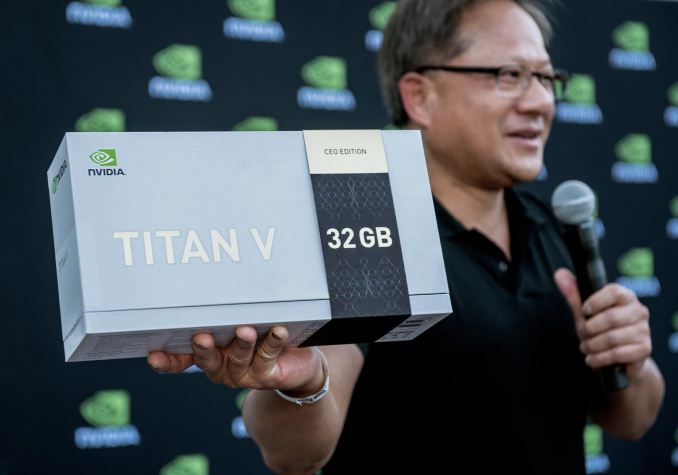 NVIDIA's CEO Jensen Huang has over the years become increasingly known for his giveaway antics at AI conferences. In recent years the CEO has unveiled both the NVIDIA Titan X (Pascal) and the NVIDIA Titan V in this fashion. And now you can add one more reveal to this list, as last evening Huang gave out 20 units of a new Titan V SKU, the Titan V CEO Edition, at the Computer Vision and Pattern Recognition conference in Salt Lake City.
According to NVIDIA, the aptly named SKU is apparently a "limited edition" product, and unlike past Huang reveals, NVIDIA has not sent out any announcements of a new product. So for the moment, this is not a retail product and is not immediately expected to become one. None the less, this is an unusual development as the new Titan V SKU is not simply a Titan V with additional memory, but rather has some notable configuration differences that set it apart from the regular Titan V.
NVIDIA Compute Accelerator Specification Comparison
Titan V
CEO Edition
Titan V
Tesla V100
(PCIe)
Titan Xp
CUDA Cores
5120?
5120
5120
3840
Tensor Cores
640?
640
640
N/A
ROPs
128
96
128
96
Core Clock
1200MHz?
1200MHz
?
1485MHz
Boost Clock
1455MHz?
1455MHz
1370MHz
1582MHz
Memory Clock
1.7Gbps HBM2?
1.7Gbps HBM2
1.75Gbps HBM2
11.4Gbps GDDR5X
Memory Bus Width
4096-bit
3072-bit
4096-bit
384-bit
Memory Bandwidth
900GB/sec?
653GB/sec
900GB/sec
547GB/sec
VRAM
32GB
12GB
16GB
12GB
L2 Cache
6MB
4.5MB
6MB
3MB
Single Precision
13.8 TFLOPS
13.8 TFLOPS
14 TFLOPS
12.1 TFLOPS
Double Precision
6.9 TFLOPS
(1/2 rate)
6.9 TFLOPS
(1/2 rate)
7 TFLOPS
(1/2 rate)
0.38 TFLOPS
(1/32 rate)
Tensor Performance
(Deep Learning)
125 TFLOPS
110 TFLOPS
112 TFLOPS
N/A
GPU
GV100
(815mm2)
GV100
(815mm2)
GV100
(815mm2)
GP102
(471mm2)
Transistor Count
21.1B
21.1B
21.1B
12B
TDP
250W?
250W
250W
250W
Form Factor
PCIe
PCIe
PCIe
PCIe
Cooling
Active
Active
Passive
Active
Manufacturing Process
TSMC 12nm FFN
TSMC 12nm FFN
TSMC 12nm FFN
TSMC 16nm FinFET
Architecture
Volta
Volta
Volta
Pascal
Launch Date
6/20/2018
12/07/2017
Q3'17
04/07/2017
Price
N/A
$2999
~$10000
$1299
Because this isn't a retail SKU – at least not yet – NVIDIA hasn't published official specifications for the card, so most of our table above is pending confirmation. However based solely on the 32GB VRAM capacity, we can accurately infer two very important points.
NVIDIA is using new 8-Hi HBM2 memory stacks, as with their 32GB Tesla cards
Titan V CEO Edition has all 4 of its ROP/Memory Controller partitions enabled, up from 3 on the retail Titan V
It's the latter point in particular that has some potentially significant ramifications for NVIDIA's limited edition Titan V SKU. The standard Titan V itself is a salvage part with only 3 ROP/MC partitions enabled; consequently it only has 3/4ths of the memory bandwidth, pixel throughput, and L2 cache of its fully-enabled sibling. This has helped to differentiate the relatively cheap Titan V from the more expensive Tesla V100, with NVIDIA being able to leverage the memory capacity and memory bandwidth differences to ensure their flagship card remains attractive.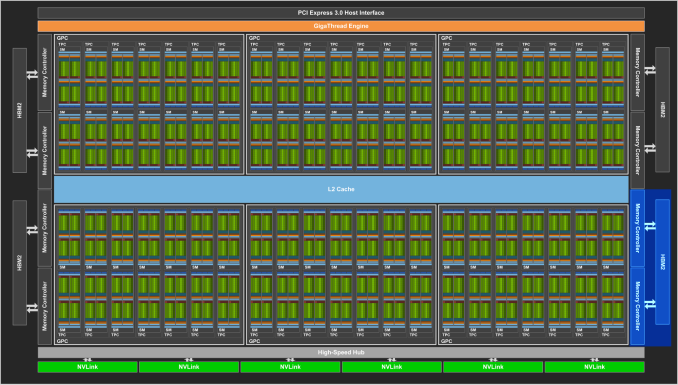 The end result is that the Titan V CEO Edition is not just a Titan V with more memory. In fact memory capacity aside, thanks to these changes there will almost certainly be meaningful (though not necessarily large) performance differences between it and the regular Titan V in any kind of memory bandwidth-bound scenario. And from I've heard from Titan V users over the past year, bandwidth-bound scenarios are more common than one might think, as the regular Titan V can fully saturate its memory bandwidth on compute alone and still come up short. Equally important, this means that at least on paper, there's not much separating the new SKU from the 32GB Tesla V100 in terms of performance.
As an added wrinkle, of the handful of specifications that NVIDIA's blog post does cover, they list the new card as offering 125 TFLOPS of tensor core performance, whereas the retail Titan V is 110 TFLOPS. It's not clear how NVIDIA gets this number, but importantly, it means that there may be further clockspeed or SM configuration changes that have yet to be revealed by NVIDIA.
In any case, for the time being the only way to get this unexpected Titan V SKU is to get one of the 20 winners from NVIDIA's giveaway to part with one. So the immediate impact to NVIDIA's business – or to potential Titan buyers – is negligible. However given the fact that this is not just a Titan V with more memory, it does strike me as unusual that NVIDIA would produce a small batch of cards and then just stop, as someone just created a fair bit of extra work for NVIDIA driver & validation teams. So I wouldn't at all be surprised if we see a similar SKU hit retail down the line, especially as the Titan V is the only remaining commercial GV100 product that doesn't have a second, higher memory capacity configuration.
Source: NVIDIA (via SH SOTN)