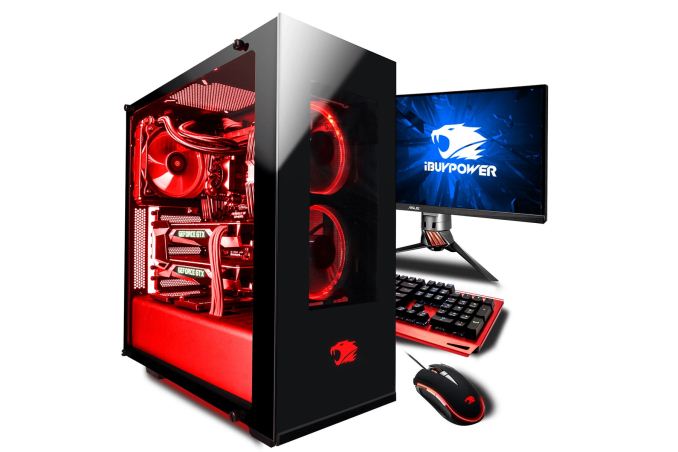 It has been a long while since AnandTech has reviewed full-sized systems, as most of our readers tend to build PCs for themselves. There is however quite a large contingent of PC users who buy off the shelves/website from companies like such as iBuyPower who build custom PCs. Today we are looking at a custom build using their Element chassis, which gives users a tempered glass chassis, some RGB bling, and some quite capable hardware inside with the latest Intel i7-8086K as well as an NVIDIA GeForce GTX 1080 Ti. Read on to see how it's built and how well it performs in our testing.
iBuyPower Element Overview
To coincide with Intel's Core i7-8086K launch, iBuyPower has kindly sent us a PC from their Element line of systems. The Element series of PCs hails from their signature line (which contains multiple different models such as Revolt 2, Noctis, and Snowblind) which includes the chassis we see below, one of their most popular they say. These systems offer a wide variety of options in processors from both AMD and Intel, along with video cards from NVIDIA and AMD, which gives users a lot of flexibility in choosing exactly what hardware they want. Along with the base components, iBuyPower has options for just about anything from hard drives and SSDs, motherboards, power supplies, heatsinks and CLC coolers, to different types of fans. If it can be used with the PC, its likely an option here.
If buying from one of their signature lines doesn't tickle your fancy, they offer an option to start from scratch with a custom builder allowing users to pick out each component starting by platform. There are literally dozens of options in cases, motherboards, processors, video cards, RAM, and cooling solutions to choose from. Users are even able to have iBuyPower do the overclocking for you with options for 10% and 20% overclocking (for an additional fee, of course). If the RGB LED implementations on the selected or built system isn't enough, they offer additional lighting and even RGB LED cable combs to like up your cable runs.
In the end, once a system is chosen be it fully custom or from their existing lines, it is built, an OS installed, and the system tested as it was requested to be configured. It is then packaged and shipped to the customer's home. These are a complete turn-key system solution for those who just do not want to be bothered with building a PC for whatever reason.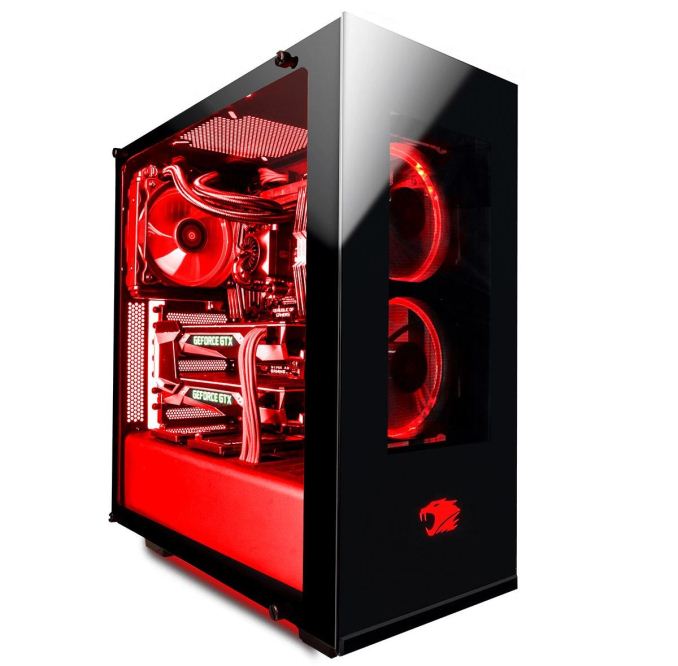 What we have today to look at is from their Element line, which consists of an ATX size chassis with two tempered glass panels showing off the hardware inside. The chassis itself is all black on both the outside and inside, with a red theme coming from the three Arc Halo fans as well as two LED strips on the bottom of the case. The styling of this chassis is fairly subdued and boxey, and outside of the tempered glass panels and numerous red LEDs, the chassis minimizes the use of other eye-catching design features. But if something more flashy is needed in the case, more lighting is able to be added through the motherboard.
Inside the case, cable management was clearly a consideration as there are shrouds for the PSU/bottom of the case to hide the wires, along with other shrouds to the right of the motherboard also intended to hide unsightly cables. On top of the power supply tray are locations for two 2.5-inch drives, and there's an area for two more at the front of the case also hidden underneath the shroud. The Element will support a 120mm radiator in the rear fan slot, and there appears to be room for a 2x120/140mm in front with leaving the case as is.
Overall, build quality is good on the chassis with the panels lining up properly and going back on without hassle, thanks in part to the padded thumbscrews holding it on at each corner. Airflow in the case should be adequate with intake air coming from the top and bottom of the front panel going through a dust filter inside the case. Once in the case, the included fan on the rear will exhaust it out. There is also an option for up to a 140mm fan at the top of the case for even more airflow.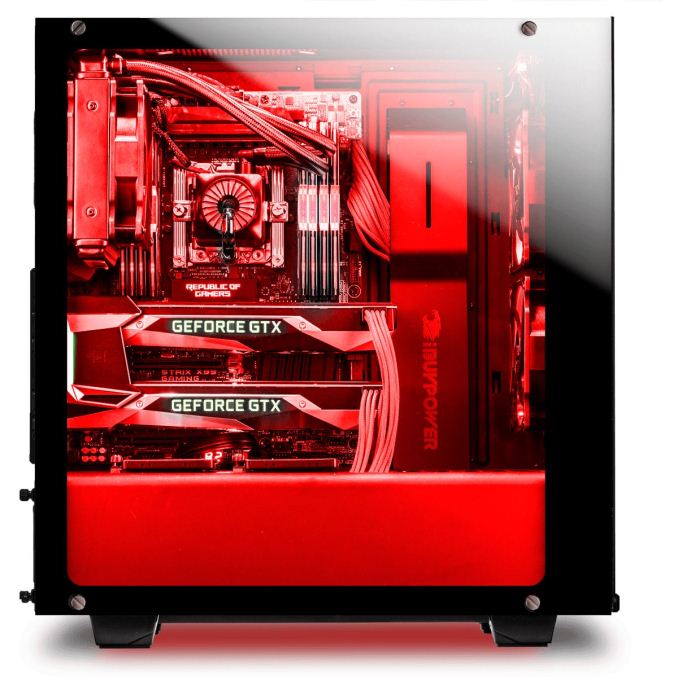 Hardware wise, iBuyPower shipped us a monster of a system, starting with Intel's latest and greatest i7-8086K CPU inside which they overclocked from the factory to 5 GHz on all cores and threads while keeping it cool is a 120mm CLC cooler from Corsair. The system shipped with an ASUS TUF Z370-Plus Gaming motherboard along with 2x8 GB DDR4 3000 CL16 ADATA Spectrix D41 RAM. For the video card a Founder's Edition NVIDIA GeForce GTX 1080 Ti was the weapon of choice. Storage for this build is using a 256 GB Intel 760D M.2 PCIe NVMe SSD and a 1TB Western Digital Caviar Blue hard drive for mass storage.
iBuyPower Element Specifications (as configured)
Warranty Period
3 Years (Labor), 1 Year (Parts)
Product Page
LINK
Price
$2199
Chassis
Element
CPU
i7-8086K @ 5 GHz (all cores/threads)
Motherboard
ASUS TUF Z370-Plus Gaming
Memory
ADATA Spextrix D41 2x8GB DDR4 3000 CL16
Video Card
NVIDIA GeForce GTX 1080 Ti
Storage
Intel 760D 256 GB M.2 PCIe NVMe SSD
Western Digital Caviar Blue 1TB HDD
Cooling
Corsair H60 CLC
Power Supply
600W Thermaltake Smart Series
As far as performance goes, the iBuyPower Element as configured was a straight up beast. Really, how could it not be with the flagship Z370 based CPU installed and overclocked as well as the fastest NVIDIA video card that's not named Titan.
Performance results in our testing showed the overclocked system outpacing a stock i7-8700K system, in most cases, with relative ease due to the increased clock speeds. Where we ran into issues was with thermal throttling in some testing such as POV-Ray. Here, the processor that should have a 700 MHz advantage with all core overclocking barely performed better than the i7-8700K at stock speeds. With the processor being so new, and working within a tight timeframe – iBuyPower shipped out the system almost as soon as they got their 8086Ks in stock – the crew over at iBuyPower did not have time to find the lowest stable voltage for the test system, so there is some fat that can be trimmed in this case. Systems shipped to the public will more than likely not exhibit this behavior as they will be properly tweaked when leaving the warehouse. A quick voltage adjustment later found this sample good at 5 GHz and 1.3V which prevented any thermal throttling and increased that score to where it should be.
Outside of that one-off issue, the system performed well in all testing. When choosing a processor like this with plans to overclock it, we would suggest going with a 2x120/140mm cooler for better results. In the end, the system performed as expected in our testing and with the GTX 1080 Ti by its side, pounded through the game testing as well.