Platform Analysis
AMD provided the press with a block diagram of the Renoir APU at the time of the launch of the Zen 2 APUs. These APUs are monolithic dies, and true SoCs with all I/Os being sourced from the APU without a platform controller hub in the picture.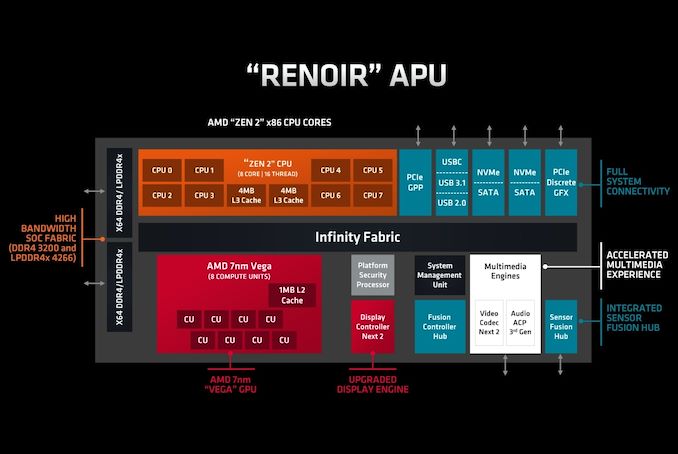 The above layout needs to be studied in conjunction with the design of the 4X4 BOX-4800U's motherboard. The various I/Os of the system (as well as internal components) are enabled using the following configuration.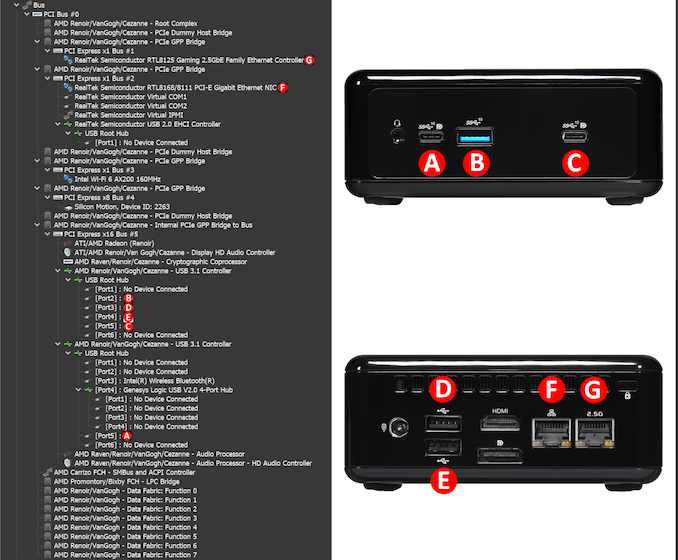 An idea of the distribution of the various PCIe lanes can be obtained from the above diagram:
PCIe 3.0 x4 and a SATA port multiplexed behind the M.2 SSD slot (PCI Express x8 Bus #4)
PCIe 3.0 x1 for the Intel Wi-Fi 6 AX200 160 MHz WLAN card (PCI Express x1 Bus #3)
PCIe 3.0 x1 for the Realtek RTL8125 Gaming 2.5GbE Ethernet Controller (PCI Express x1 Bus #1)
PCIe 3.0 x1 for the Realtek RTL8168/RTL8111 GbE Ethernet Controller (PCI Express x1 Bus #2)
Other aspects of interest include the distribution of various USB ports - particularly in terms of bandwidth sharing. For example, we expect ports 'B' and 'C' behind the same root hub to share bandwidth. Note that the PCI Express x16 Bus #5 includes the two USB 3.1 controllers as well as the integrated GPU. The two Type-C ports in the front panel also act as conduits for two display outputs from the latter.
In the remainder of this review, we will first look at BAPCo's SYSmark 25, followed by various UL benchmarks and miscellaneous workloads. We also present some gaming benchmarks. A detailed look at the HTPC credentials of the system is followed by testing of the power consumption and thermal solution.