We're live at Motorola's NYC launch event featuring the return of a long fabled brand, the RAZR. This time paired with a more recent brand, Droid. The phone itself was teased with the line 'Faster, Thinner, Smarter, Stronger' and tries to bear those superlatives out with a 1.2 GHz Ti OMAP 4430 SoC, super thin form factor (7.1mm), Android 2.3 (the latest edition as of press time) and a frame made from steel and a case made partially of Kevlar. In addition the display is a 4.3" Super AMOLED Advanced qHD display, which they peg as having more contrast and more rich colors than a certain 3.5" display. Motorola's not pulling any punches, they want you to know that this is faster and with a better display than the iPhone 4S.
Update: Motorola tells us the RAZR uses the same 8MP rear camera sensor as the Bionic (check out our review for our analysis). The front facing camera gets an upgrade to 720p. The battery capacity is 1800mAh, which should put it right around what we saw in the Bionic.
Update 2: Hands on videos below!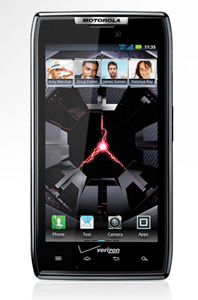 In addition to the hardware, Motorola wanted to show off a few software innovations, no doubt wanting to hedge against the Ice Cream Sandwich announcement later this evening. The first, is what they're calling evolved Webtop, it's unclear how different this is than the Webtop we know and . . . well . . . like, but we'll be sure to investigate further. Next was Smart Actions, a battery sparing system that automatically adjusts device settings for optimum battery life based on conditions including location and battery life. For instance, if you're home, you probably don't need your BT and GPS to run, so it shuts those off. MotoCast is their push to cover the 'personal cloud' market. As they describe it, only 15% of smart phone users devote all their files to the 'cloud,' with the vast majority saving their files in a laptop or desktop that sits at home. This software tunnels your phone to your computer and allows you to retrieve and send files from your phone. The notion of the personal cloud will be big in the future so this may be a real boon if it works as flawlessly as they hope. Lastly, they discussed their Enterprise software, this is an ongoing theme for all new product announcements of late, and no doubt a reaction to the number of iPhone's being tied into business networks.
All of this will be running on Verizon's 4G LTE network and the speed benefits of this network were showed off prominently. If the weight, thinness and battery life claims pan out then this could be the first LTE phone to not be bulky and aching for a spare battery. We are skeptical about any incredible battery life claims given that we're likely looking at the same underlying hardware that has powered previous 4G LTE phones. We'll have more coverage shortly after we get some up close time with the device, but in the interim enjoy some shots from the event.
Preorders start on October 27th, and the Droid RAZR will be available in store and on-line in November for $299 on-contract, par for the course for halo phones of late.