In the 10 months since we first heard that Archos would be leveraging the 1.5 GHz TI OMAP 4460 in their tablet line, our excitement has waned. We've seen tablets sporting Samsung's Exynos, NVIDIA's Tegra 3 and even played with some Krait tablets, all of which can seriously outperform TI's current gen champ. But this performance sure is nice. To review, TI's OMAP 4460 includes two ARM Cortex-A9 cores, and Imagination Technologies' PowerVR SGX540 all on a 45 nm process. The lesser kin to our subject is the TI OMAP 4430, though to look at their spec sheets they should only differ in clock speeds, with the 4430 topping out at 1.2 GHz on the CPU and 304 MHz on the GPU and the 4460 topping out at 1.5 GHz and 384 MHz, respectively.
So, if the two OMAP 4 variants ultimately differ by their 25% clock difference, we should see a similar delta in performance. As always, we start with our JavaScript benchmarks to gauge CPU performance. First, SunSpider and its js time trials.
Our hands-on time with the Motorola Xyboard gave us a hint at what to expect. At 1.2 GHz OMAP 4 provides excellent JavaScript performance. At 1.5 GHz, we have a new king of the hill for this particular benchmark. It's hard to say whether there's some optimization trickery at work here, but browsing performance on these tablets was generally excellent.
Rightware's Browsermark is another js test that paints the same picture. In both of these tests the delta between the Xyboard and the G9 was about 25% so the leads correlate with the clockspeed advantage. The result is, at least in JavaScript performance, we have the world's fastest tablets.
So how does that old stand-by the SGX 540 fare now that it's been cranked to 384 MHz? We start with GLBenchmark and their off-screen tests, Egypt and Pro. Any test at device resolution would unfairly favor the smaller 80 G9 because of its lower resolution.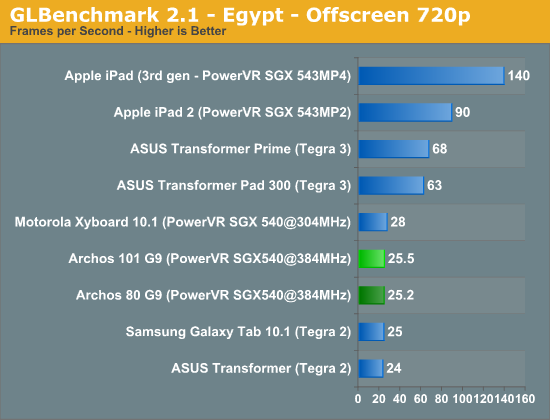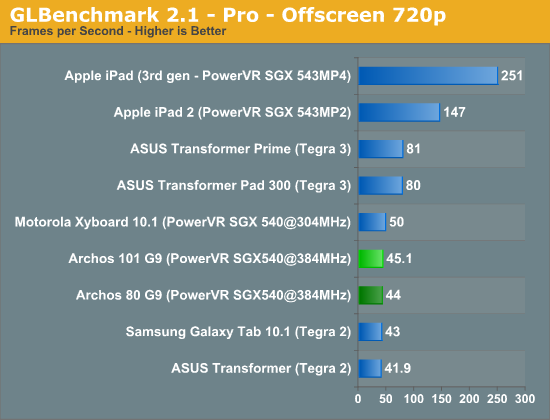 Not quite what we expected. Here the G9's fall behind the lower clocked Xyboard by roughly 10%, and certainly don't demonstrate the performance advantage they showed in the JavaScript tests.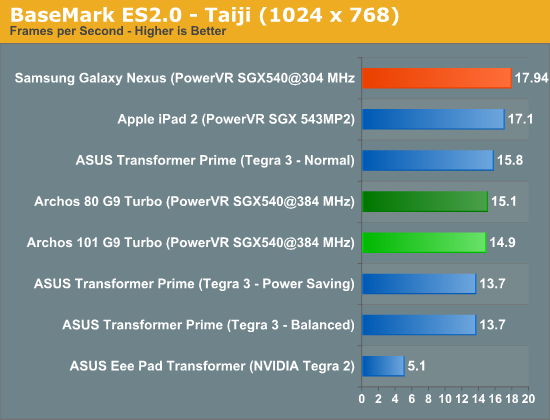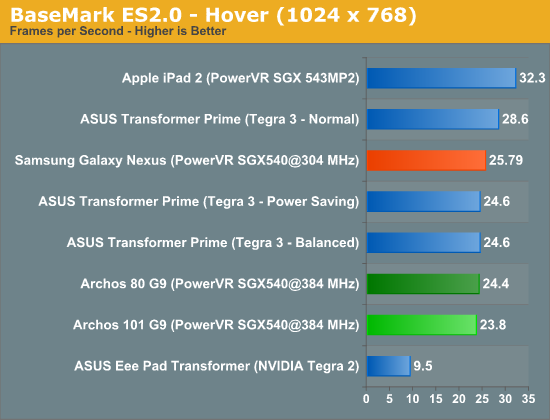 BaseMark's results show much of the same. We didn't record data for the Xyboard, but we did have it for the Galaxy Nexus and its equivalently clocked OMAP 4460. The Nexus bests all but the iPad 2, but the G9's continue to falter by about 10%.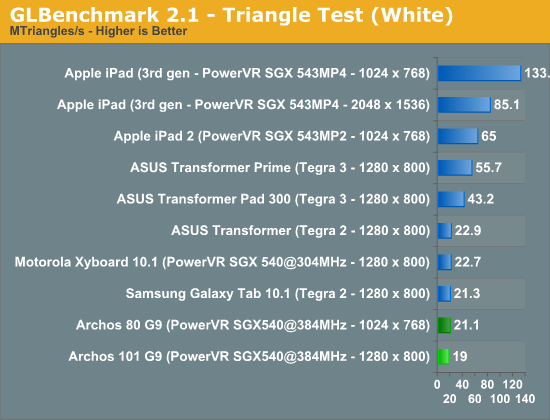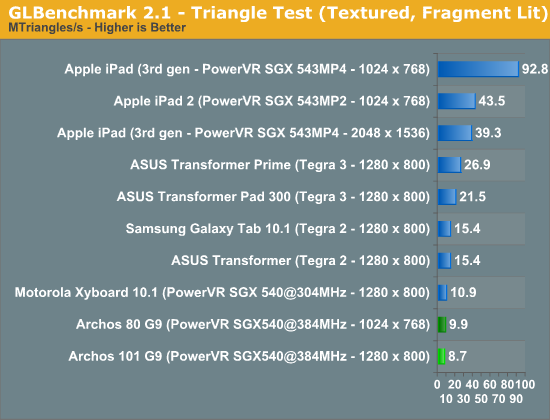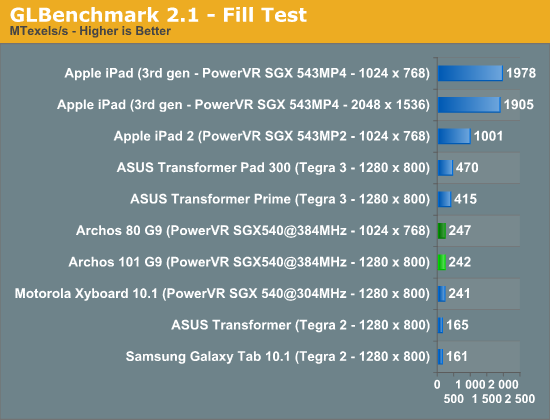 Even the more purely synthetic tests fail to show the performance advantage that the G9's should have. It's possible that other component selection, particularly memory, could seriously hinder the performance of the GPU in a way that the CPU tests don't suffer from. We weren't able to independently confirm the GPU clock, but were assured by Archos that it is, as advertised, set to 384 MHz. That aside, the G9's GPU performance isn't exactly disappointing. You won't hit the high frame rates you might see from the more powerful Tegra 3 or Apple's A5, but playthroughs of ShadowRun and Dead Space were smooth and glitch free.
So, in the end, performance is a mixed bag. The 1.5 GHz Cortex-A9 cores deliver stellar compute performance, which translates to impressive JavaScript performance. The GPU side of things is less clear, with the tablets being outpaced by lesser clocked peers, but performance still being adequate at these resolutions. So, world's fastest? Maybe.